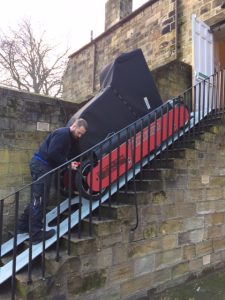 Here at Tyneside Piano Company we can provide beautiful instruments for any occasion. From concerts and recitals, to corporate events, private functions and weddings, we can arrange for your chosen hire piano to be transported to a destination of your choice, tuned and made ready to play, then removed once the hire period or function is over.
We have a superb selection of hire pianos available in our all Steinway & Sons hire fleet, that cover every need from that of the debutant student, to concert level. Once you have chosen the instrument that fits your specific requirements from our selection in our showrooms, we will make all the arrangements necessary for the instrument to be safely transported and delivered to your chosen location.
We use our own specially customised fleet of vehicles to transport all our pianos, plus the extremely safe and efficient Klavier Roller System. Then once the piano is on location, we make sure that it is tuned, positioned and ready to play. Of course your own piano can also be safely and easily transported to any destination in the country, with our customised fleet and superbly trained technicians.